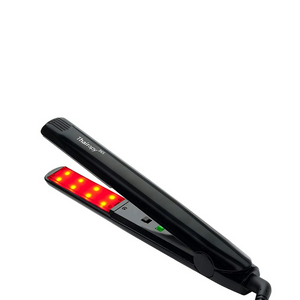 Thairapy365 RX Moisture Boosting Hair Deep Conditioning Tool
Regular price
Sale price
$499.00
Tax included.
Shipping
calculated at checkout.
---
NOT YOUR TRADITIONAL FLAT IRON.... IT'S NOT EVEN A FLAT IRON! ITS A  REVOLUTIONARY MOISTURE BOOSTING TOOL THAT NEVER USES HEAT!
What is the need? 
Many factors contribute to damaged hair. Hair's composition is 88% protein, meaning that when hair is damaged it cracks the hair cuticle causing it to lose the natural proteins and moisture which leads to hair that looks and feels dry, brittle, and overworked, making it harder to style and less attractive. In today's lifestyle, we are routinely damaging our hair:
Heat Styling is a leading cause of damaged hair
Friction damages hair most frequently. Simple activities such as combing your hair and sleeping cause friction. The constant rubbing of hair against a surface "breaks" the hair
Chemicals such as bleaches, perms, and relaxers damage hair greatly
Environmental conditions affect hair year-round. Sun and pollution break the proteins in your hair
How it works:
The revolutionary José Eber Therapy RX Moisture Boosting Tool is the leading tool to restore the moisture in your hair using state-of-the-art ultrasonic, antimicrobial, and true far infrared technology. Used in conjunction with any hair conditioner or oil, the Therapy RX penetrates the cuticle, breaks down the conditioner or oil into nanoparticles, and pushes it into your hair giving your hair an incredible moisture blast. USED ONLY AS A CONDITIONING TREATMENT ENHANCER,  the Therapy RX uses NO HEAT. Its purpose is not to straighten or style hair, but to deeply condition and heal the hair.  Within a few uses of the José Eber Therapy RX Moisture Boosting Tool, your hair will feel healthier, look shinier, and be more manageable. Damage to your hair is constant, but now you have the tool to fight back.
Product Features:
Anti Microbial UV Technology
Far Infrared Heat Technology
Ultrasonic Vibration Technology
100% NO Heat ever!
Enhances and boosts the benefits of topicals and treatment products
Not a styling or straightening tool
Professional length power cord
Manufacturer's lifetime warranty
Directions:
Operating instructions
Shampoo and condition your hair with professional quality hair care products. Rinse thoroughly.
Towel-dry hair to remove excess moisture.
While hair is damp, apply a leave-in conditioner, a hair mask, or other treatment product of your choice evenly throughout hair and comb through.
Divide hair into 1- 1 1/2 inch sections and pass the Therapy RX Moisture Boosting Tool downward from root to tip in a slow, even motion. Hair will still be damp. The Therapy RX will not dry or straighten hair. It only assists in infusing and penetrating treatment products deep into the hair cuticle.
For best results, wipe the plates of the RX Clean with a cloth or tissue every few sections.
You may see steam, this is normal and part of the penetration process.
Continue until all hair has been treated with the Therapy RX Moisture Boosting Tool
Rinse off the product if needed, otherwise, let hair air-dry or you can blow dry as normal.
Follow with your usual styling routine.
Recommended using 2 days per week in conjunction for best results.

Take note:
If plates become hot to the touch, switch off for few minutes.
Do not use Therapy RX Moisture Boosting Tool while showering.
Do not put hair care products or water directly on the plates.
Choose 0% interest-free installments with Atome.